Descripción de Riande Aeropuerto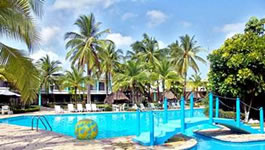 Hotel Riande Aeropuerto is located only 2 minutes away from Panama's Tocumen International Airport (PTY). This airport hotel is 20 minutes away from Panama's financial district and 10 minutes away from Los Pueblos, the largest shopping mall in America Central. The Hotel Riande Aeropuerto consists of two floors and 195 comfortable rooms. Among its amenities there are 2 international restaurants, a bar, a small casino, a gym, tennis, basket and volleyball courts, a large swimming pool with its own snack bar and barbecue area, a Jacuzzi, children playground and large green areas. Hotel Riande Aeropuerto also features conference facilities in the recently renovated business center, with 7 spacious and equipped meeting rooms for banquets and conventions.
Servicios de Riande Aeropuerto
Guestrooms at the Hotel Riande Aeropuerto offer quiet courtyard views or nice pool views and feature a queen-size bed, two double beds or three twin beds. Some of the rooms also have outdoor terraces or front views. All the rooms have air conditioning, security systems, stereo color television with Cable channels and wide cabinets. Non smoking and disabled-fitted rooms are also available.

Comodidades del Hotel:
Comodidades de la habitación:
Outdoor Pool
Jacuzzi
Tennis, Basket, Volleyball Courts
Restaurants & Bar
Gym
Children Playground
Business Center
Hair Salon
Cable TV
Aire Acondicionado
Non Smoking Rooms
Disabled-Fitted Rooms
Reservación Riande Aeropuerto
Para reservar este hotel, complete el siguiente formulario, agregando cualquier comentario si es necesario. Las celdas marcadas son obligatorias *